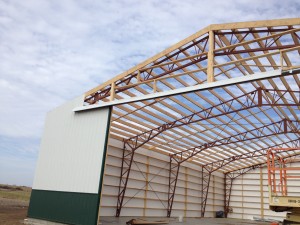 There are more and more folks thinking of building their own homes, shops, garages, etc., either as a do it yourselfer or as their own "General Contractor"…  This is to not only for the freedom to be able to design it all exactly the way they would want, but to also substantially save on costs.  This is always a good thing!
Once that is decided the next question that often comes up is: What materials is best to use for the superstructure?… Wood, Steel or otherwise?
We can share from many experiences being involved in the building industry for now well over 100 collective years… #1 is a steel framed building structure for your home, business or shop will give you many advantages!  Here are just a few…
1. IT IS MORE DURABLE
A steel framed home, shop or shed or garage will be much more durable and sturdier from day one and, more importantly, for the long haul.  As you might expect – STEEL is definitely a stronger material than wood!  It will last longer and withstand much more in terms of wind, snow loads or even .
2. IT CAN OFFER LARGE CLEAR SPAN OPTIONS
With Steel frames, you will be able to create nice, clean, clear span, unobstructed rooms.  Steel can span larger dimensions easier, while not requiring posts or beams to support the roof trusses.  And some Perka Models will even be able to offer clear vaulted ceilings offering even more advantages with getting higher door openings, more open access and even space for mezzanine lofts, 2nd floor areas or even practical attic storage.
3. STEEL IS MADE MOSTLY FROM RECYCLED MATERIALS

Wood is a great organic material – but it is also being depleted faster than it's being renewed! While a renewable resource – it does take time.  Most steel these days comes from recycling old steel…  from cars to old bridges and structural steel scrap.  This is a good thing for the environment.
4. WOOD HAS IT'S ADVANTAGES TOO

Of course going with all steel does sound pretty "COLD"…  As stated above, wood is a very organic material and does offer a certain "energy" to a living or working space. So using a HYBRID Wood and Steel system – will give you the best of both worlds. You will be able use steel where steel is needed in and for the superstructure – and then can frame all the rest – including any openings for windows, doors etc, with wood where it serves best! There are a few Hybrid Building Companies around like Perka Buildings.  www.perkabuildings.com
5. AREN'T STEEL HOMES/BUILDINGS HARDER TO KEEP WARM IN WINTER AND COOL IN SUMMER?
Steel Frames are not necessarily harder to heat or cool if you create the right THERMAL BREAKS. By using a product like one with an expanded polystyrene (EPS) core (i.e. www.p2000insulation.com), you will be able to effectively and easily insulate the home against ALL THREE forms of heat transfers. 
a) The EPS – especially on wood purlins and girts – will virtually stop conduction since it pretty much blocks the transfer of heat to the cold (like a coffee cup – but 5 or 8 times thicker?).
b) The coverings that are offered like reflective Mylar will handle the heat loss from radiation due it's ability to reflect back most of the radiant heat.
c) And finally, by sealing all the board joints with their overlap, foam sealants and or tape systems, you will prevent any heat transference from convection (air flow)…
And that's it – ONE application on a wood steel hybrid building and you have a virtually perfectly super-insulated system!!

6. QUICK, EASY AND LESS EXPENSIVE TO ERECT.
If you get the right steel building frame design system (i.e. with pre-welded and pre-punched clips, pre-fitted to assure accuracy, minimal connections for simplicity, and well thought out and designed to eliminate as much shimming, splicing and retrofitting) – it will actually be allot quicker to erect, finish and insulate your home or building – and this will save you allot of time, money and "headaches"!! 
So, it's always good to do your homework.  Check out the various steel building frame and insulation options that are available. Know who you are buying from. 
You can easily have a well built, well insulated building or home that will not only be very affordable, but be low maintenance, energy efficient, strong, secure, comfortable and last for generations.
Cheers!
TEAM PERKA.